Well, it has been a few months since I saw a post or pole of Converge ICT near my house (10-15 meters away). They told me that they encountered permit problems, wherein President Duterte told all government offices to facilitate the fast release of all permits. So, why Converge ICT taken a hefty of time just to get permit for a post or pole?
Also a disappointment is the one and only (I do not know if he is the only one) sales agent or sales guy for my area cannot offer me a staggered payment or scheme for easy payment terms, so that paying will not be heavy on my pocket.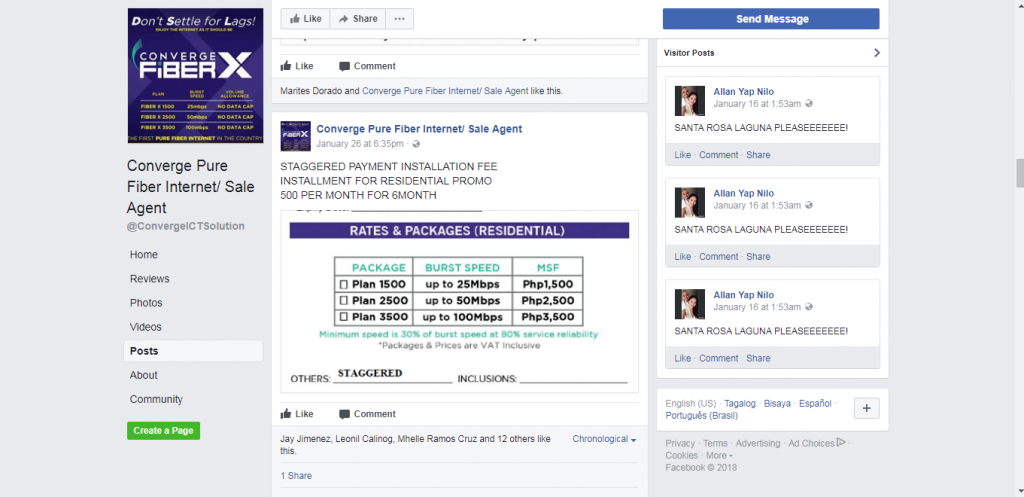 Picture is from a Sales Agent that offers STAGGERED PAYMENT!
Staggered Payment meanings or definitions:
payments that can be accepted over a period of time for finalizing a deal example credit card settlement with in 6 months
payments of different amounts in different intervals over a specified period, not necessarily in 4 equal monthly installments
written or contractual agreement for paying off a loan,paying someone a salary or bonus over a period of time agreed to by the parties involved
payment on terms extending over a period of time, and they may be at different intervals and amounts
Source of "Staggered Payment":
https://www.quora.com/What-is-the-meaning-of-staggered-payments
http://www.a-systems.net/qna/question.htm?id=286
The sales agent is "Seven E Komp Tek", I do not know what is that Seven E Komp Tek means, but I clearly told that sales guy my intention and needs. So, they told me that they cannot offer staggered payments.
So, why "Seven E Komp Tek" cannot offer staggered payment while most sales agent I can see around Quezon City can offer such staggered payment for 3 months. My classmate even told me that recently his girlfriend got connected with Converge ICT FiberX 1500 25Mbps in staggered payment of 3 months. What the! Is that a selection of who you can offer staggered payment?
This really clearly shows that not all sales agent of Converge ICT offers such staggered payment.
And not all the time, the post or pole of Converge ICT that is near your house is clearly activated for service. Better ask if the specific post or pole is activated.