We bought the TP-Link Deco E4 (3-pack), it consist the 1pc user manual, 3pcs Deco units, 3pcs ac adapters, and 1pc Slim/Thin LAN cable (which I did not use).
It arrived last July 9, 2020, bought it from Shopee – TP-Link (Official Store).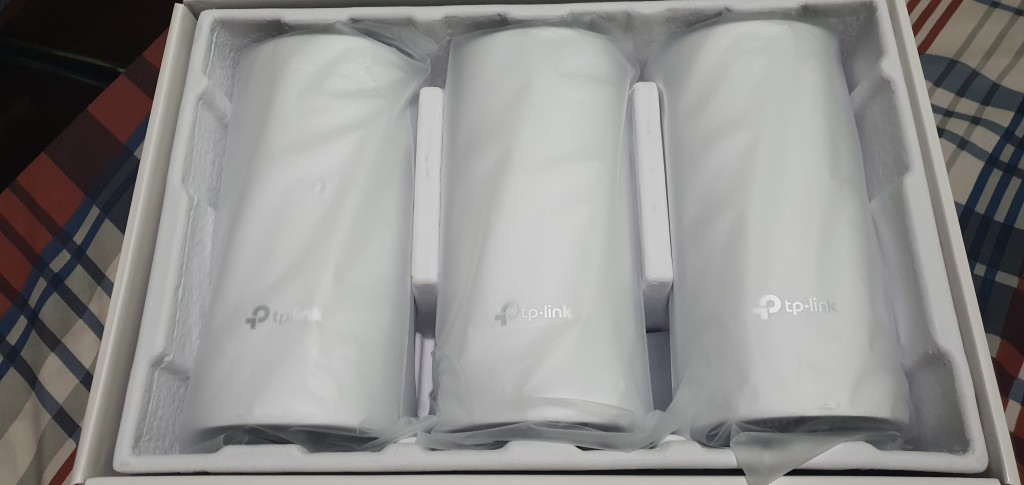 The price in Shopee is PhP5,500, it does not include the shipping fee. But we got it for PhP5,170, because of the Shopee 7.7 Sale at 12 midnight or the early morning of July 7, 2020.
Our house is three (3) stories high, so the need of this Mesh Wifi is an advantage, as it now covers our whole house. Where my previous Asus RT-N16 does no longer work and cannot cover some portions of the house. So the modem provided by my ISP will no longer be burden or beaten with its job in providing not only the routing capability and internet connectivity with the ISP but also the wifi capability. The wifi feature and DHCP will now be handled by the Deco unit, because you need to turn off the said features of your modem so it will not conflict with your Deco: you need to turn off wifi and you need to turn off DHCP server.
Wifi and DHCP server should now be handled by the Deco unit.
Before using, you should identify which Deco will be your Main unit, you may also connect your other Deco units to the modem's LAN port so that it will detect the Deco Main unit and connect to it via ethernet backhaul. You need to download the TP-Link Deco app on your mobile phone, also you will need to register to TP-Link in order to add your Deco units on the app. On the WAN IPv4 on the TP-Link Deco app you will need to add the static IP address previously issued by the DHCP server on the modem (which I turned off). Just a simple clicking on the app and your are ready to go.
The two other Deco units should be connected to the ethernet for backhaul connection between Deco units otherwise it will connect to Wifi for its backhaul connection. I made my Deco units connected to ethernet for backhaul connection. But I am having issues with my second Deco unit which connects to wifi backhaul instead of the ethernet backhaul, the third Deco unit is connected to ethernet backhaul (via the second Deco unit), its really weird that it is not detecting the first or main Deco unit for its backhaul connection.
Conclusion. It really did expanded the wifi coverage of our house, I can rover around without being disconnecting to the wifi, the Deco unit will connect you to the nearest one so you will not notice any disconnection. And its other main purpose is for my niece and nephew's home schooling, now that we are still in this Covid-19 pandemic.