Seeing the post of gaming chairs and watching video reviews for the past few days we decided to reserved two (2) gaming chairs from Panther Gaming Gear via Facebook Messenger last 21 April 2020 however they told us that the stocks for Nylon footing is no longer available, so me and my wife discussed what should we do. Then the following day 22 April 2020 we made a decision that its okay to have the Steel footing for the gaming chair and we have another chat with Panther Gaming Gear that we will push through with our order but the footing is Steel. On 23 April 2020 in the evening they chat to advise us of the delivery the next day (24 April 2020) and we processed the payment of our order via Paypal for online payments because that is their only option for online payment.
We bought the following chairs:
One (1) Panther Nightfall – Pink & White = PhP4,490.00
One (1) Panther Nightfall – Black & Red = PhP4,490.00
Total: PhP8,980.00
Their courier is Transportify, you will need to wait for the delivery because its not only you who will be delivered of the gaming chair as there are other customers who will also be delivered by them. Our drop number is 5 on 24 April 2020, the driver texted us by 12:13PM for the delivery of the gaming chair. The only problem with Transportify is you do not have a way to track the delivery of your order, so you need to contact Panther Gaming Gear to track your order.
By 1:05PM, the driver of Transportify called to confirm the location of my house and at just that time I asked if what is their plate number because I saw from a far away a vehicle (Toyota Innova), the driver confirmed and proceeded in front of my house.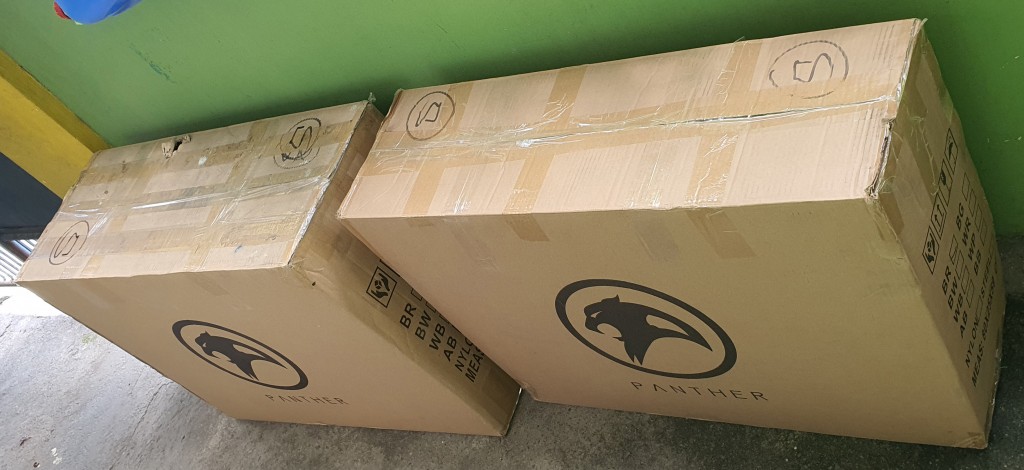 Its great to have this kind of chair, as you can work from home, that is the purpose of why we bought the gaming chair from Panther Gaming Gear. The chairs only needs a few minutes to assemble, its not that hard to do it, you will not be needing any screwdrivers for the assembling of the chairs as the screws are using allen wrench which is included inside the box, also a graphical instruction guide to assemble the chair is inside the box.
What I can say about Panther Gaming Gear is their Sales is very responsive during the Covid-19 crisis because if they did not sell online, their business will no longer be in business. On warranty, based on what I heard from youtubers their warranty claims has no problem, even the replacement of the item or part will be shouldered by the Panther Gaming Gear. They are offering Free Delivery during this crisis, so what are you waiting for, buy now while stocks last.
Need more comfort working from home or any gaming accessory needs?
Head to their website at https://www.panthergaminggear.com/shop